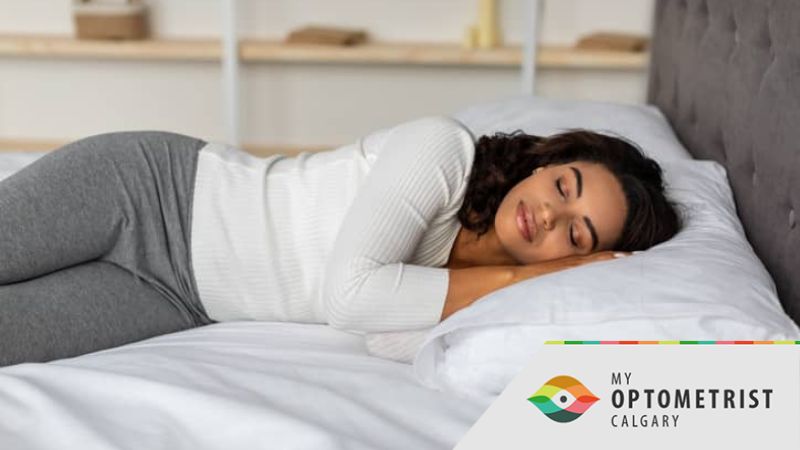 Dry eyes are often discussed in terms of discomfort during the day or while performing tasks, but dry eyes can also affect your sleep. When a person suffers from dry eye symptoms, whether they are seasonal or persist all year long, they may struggle to fall asleep due to dry, irritated eyes that draw their focus. Some people also wake up with dry eyes caused by a lack of tear production or by eyes that are not fully closed during sleep, which can make it difficult to function in the morning. Many people also suffer from headaches and muscle fatigue caused by digital eye strain, which can also affect sleep. To help resolve these issues and to get a restful night of sleep, try the Umay REST eye mask and feel relaxed and refreshed.
The Benefits of the Umay REST
What Is Umay REST?
This new dry eye treatment is an eye mask used at night to relieve dry eye symptoms and help you get a proper night's rest. This high-tech eye mask works to help you sleep by not only reducing dry eye symptoms during sleep but also by using meditative qualities that induce relaxation. To help send you off to sleep while also stimulating appropriate tear production, the Umay REST uses strategic and rhythmic warming and cooling. This provides relief to the eyes and can be used to assist with rhythmic breathing which can help you fall asleep. This unique eye mask can also help you unwind from your day, as it forces you to take a moment to focus on yourself, the sensation on your eyes, and your breathing.
How Is Umay REST Different From Other Eye Masks?
Other forms of eye masks are typically either heating or cooling and they require some preparation. For warm eye masks, you need to microwave them to bring them up to temperature. For cooling eye masks, you need to have even more forethought to put them in the freezer well before use. The Umay eye mask performs both heating and cooling without any necessary preparation; all you need to do is press a button. Unlike other eye masks, this treatment will not gradually come to room temperature, and it instead is customizable and features an automatic shut-off for after you are already asleep. The Umay eye mask also keeps track of your usage so you can know when you fall asleep and when the eye mask is most effective.
How Does Umay REST Help My Eyes?
This device can help to reduce the symptoms of digital eye strain and dry eyes. By heating and cooling the eyes and surrounding skin, the Umay REST eye mask helps to relax the muscles around the eyes. This helps prevent further eye strain. The warming and cooling sensations of the eye mask also help to relieve dry eyes by stimulating tear production. These thermal waves help to not only soothe your eyes but calm you overall and trigger sleep signals to help you destress, causing your muscles to relax and improving sleep. And by wearing the fitted eye mask, your eyes will stay closed through the night so that you do not suffer from dry eyes caused by partially closed eyes.

Find The Umay REST Eye Mask At My Optometrist
If you're ready to soothe your eyes and sleep better, visit My Optometrist in Calgary or Three Hills to get your Umay REST eye mask. Instead of spending nights tossing and turning and waking up feeling groggy and grumpy, the Umay REST eye mask can help people suffering from dry eyes or digital eye strain soothe their eyes and fall asleep faster. This eye mask is also beneficial for people who struggle to fall asleep even if they have no eye problems, as the meditative quality can help you get to sleep faster. To learn more about the Umay REST eye mask, call My Optometry or explore this product on our website. If you have dry eyes, you can also schedule an eye exam with our optometrists for a dry eye assessment. Please call My Optometrist or fill out our online contact form to book an appointment.

FAQ
Q: What are other names for dry eyes?
A: Dry eyes can also be known as keratoconjunctivitis sicca, DES, and/or Dry Eye Syndrome.
Q: How severe are my dry eyes?
A: If you want to assess the severity of your dry eyes before you come for dry eye treatment, you can take the dry eye quiz! Scroll to the middle of this page to where it says "Take The Dry Eye Quiz Now!" and simply fill out the questionnaire.
Q: Is the Umay REST the only form of overnight dry eye solution?
A: No, My Optometry offers top-of-the-line products designed specifically for dry eye treatment. There are other forms of overnight treatments that can be used to address dry eye symptoms, including eye gels and eye masks. View all dry eye products here.