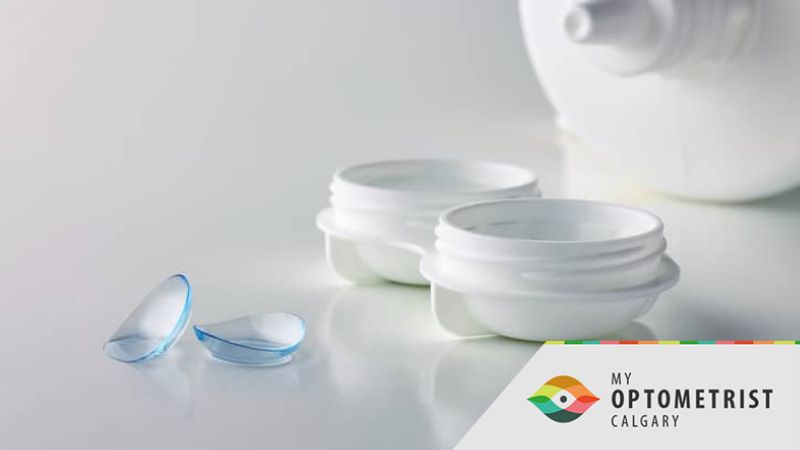 If you are considering switching from eyeglasses to contact lenses, you may not be aware of all the different contact lens options available to you. While most people tend to think of contact lenses in terms of their wear length (such as daily disposable contact lenses versus monthly lenses), there are also different types of contact lenses for different functions. The type of contact lenses that are right for you will depend on what eye conditions you may have as well as the comfort of the lenses and your personal preferences. For example, your choice of contact lenses may be influenced if you have astigmatism, presbyopia, or dry eyes. Here are some different types of contact lenses to consider.
The Different Types OF Contact Lenses
Soft Contact Lenses
These are the most common type of contact lenses and are widely considered the most comfortable. Soft contact lenses are ideal for the majority of Canadians and for people without astigmatism. Soft contact lenses allow oxygen to get to the cornea, which is good for corneal health as well as comfort. If you are unsure what type of contact lens is right for you, soft contact lenses are typically a safe bet.
Gas-Permeable Lenses
Also called GP lenses, these contact lenses are harder than the average contact lens and they can take a little more time to adjust to, but they also offer clearer vision. Because gas-permeable lenses are more firm and structured, they are less likely to rip/tear and will last longer than soft contacts. Because gas-permeable lenses hold their shape, they move slightly with each blink, which allows tears to coat the cornea and remain adequately lubricated, reducing the amount of irritation in the eye caused by dry eyes.
Toric Contact Lenses
If you have astigmatism, these contacts can help correct the curve of your cornea. Unlike other contact lenses, toric lenses are not shaped as a perfect half-sphere and they need to be placed in the eye in the correct position, since they have a top and bottom with different sides. If you opt for toric lenses, your optician will explain how to put these lenses in. Toric contact lenses are often hard so that they can help shape the eye.
Bifocal And Multifocal Contact Lenses
These are the contact lens version of bifocal or multifocal eyeglasses. Just like their eyeglasses equivalents, bifocal contact lenses have two different fields of vision and multifocal lenses have more than two fields of vision that can help a person see differently for up-close objects and objects at a distance. For contact lenses, the different zones of prescription are focused in a concentric circle similar to a bull's eye pattern. Bifocal and multifocal contact lenses often take some time to adjust to.
Monovision Contact Lenses
These are contact lenses where each eye is a different prescription; one for seeing up close and one for seeing far away. These contact lenses are often used by people with presbyopia and are an alternative to bifocal and multifocal lenses. Because each eye has a different prescription, the use of these contact lenses can make depth perception difficult and they may take some time to adjust to. Driving with monovision contact lenses is not recommended until you have had time to adapt to them.
To learn more about other types of contact lenses such as daily disposable lenses, read The Ultimate Guide To Help You Choose Your Contact Lenses.
Find The Right Contact Lenses In Calgary And Three Hills
If you are ready to switch from eyeglasses to contact lenses, you will need to visit an eye doctor. Your eye doctor will create a new contact lens prescription, which is different from your eyeglasses prescription. While you get your prescription updated, you can discuss the different types of contact lenses with your eye doctor and the staff at My Optometrist. Our kind and helpful staff will help you determine which type of contact lenses are right for you and they will show you how to take your contact lenses in and out as well as how to care for them. To book an appointment, contact My Optometrist at one of our three locations at Health First in SE Calgary, Sunridge in NE Calgary, or Three Hills, AB. You can also call us or fill out the online contact form.
FAQ
Q: Are contact lenses better than glasses?
A: Whether to choose contact lenses or glasses is a personal decision, but there are some benefits to choosing contacts such as:
Contact lenses offer a more natural feeling once placed properly in the eye.
Contacts do not get foggy and smoggy throughout the day as glasses do.
Contacts are better for sports and other physical activities.
Glasses can distort vision around the edges, whereas contact lenses do not.
Contact lenses look and feel invisible so you do not have to consider style when purchasing them.
If you are trying to decide between contact lenses and glasses, book a consultation with your Calgary Optometrist to help you decide what contact lenses are right for your lifestyle.
Q: I have dry eye symptoms, can I still wear contact lenses?
A: Yes, people with dry eyes can still wear contact lenses but you will need to ensure you are caring for your contact lenses properly. People with dry eyes sometimes need to take extra steps to ensure their eye comfort. Learn more by reading Can People With Dry Eyes Wear Contact Lenses?
Q: Do contact lenses hurt?
A: Contact lenses may feel uncomfortable as your eyes adjust, but they should never hurt. When you use contact lenses for the first few times your eyes may be irritated and watery, just remember to keep disinfecting them until your eyes can fully adjust to wearing them.