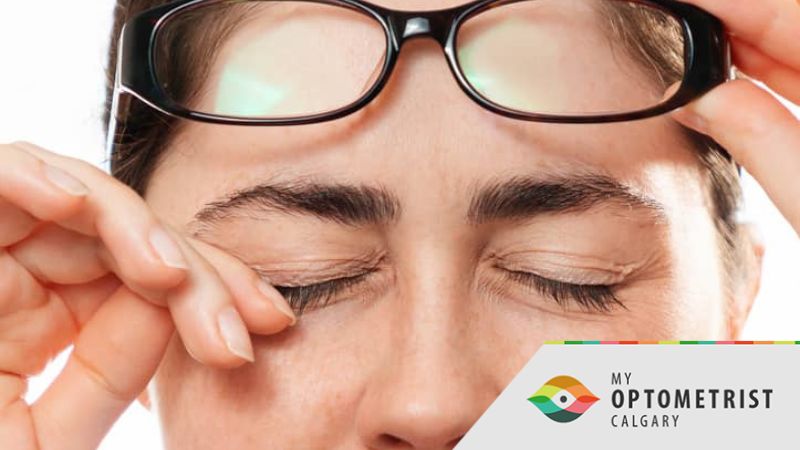 If you suffer from dry, irritated eyes, you are not alone. Nearly 90% of Albertans have some form of dry eye symptom, and many are diagnosed with Dry Eye Syndrome (DES). Despite this, very few Albertans seek professional dry eye treatment. Although there are some fast-acting forms of relief such as lubricating eye drops, these are not a permanent solution. As new, non-invasive technology for dry eye treatment advances, Albertans have more options than ever to relieve their dry eye symptoms. Radio Frequency (RF) is one such technology that can help to relieve the symptoms of DES by resolving the cause of the issue. This non-invasive and stress-free form of dry eye treatment is a huge advancement in the battle against DES.
DES And Dry Eye Treatment
What Causes Dry Eye Syndrome?
The two main causes of DES are a lack of tear production and the production of poor-quality tears. If the oils in the meibomian gland along the edges of the eyelids become solidified, this can prevent the tears from incorporating the oils needed to coat the eyes and lead to increased tear evaporation. Clogged meibomian glands can also prevent the flow of aqueous fluid in tears and leave the eyes dry from a lack of tears. Some symptoms of DES include:
Itchy eyes.
Burning eyes.
Watering eyes.
The sensation of grit under the eyelid.
Blurred vision.
Eye fatigue.
Double vision.
Sensitivity to light.
Eye redness.
Mucus around the eyes.
How Does Radio Frequency Work?
RF is a type of dry eye treatment that generates heat energy to break up oils that are clogged in the meibomian glands. As these oils break up and become liquid, the tears regain the correct composition of fluids and any meibomian gland blockage is cleared so that tears can flow again. RF is a non-invasive treatment that can be used on its own or alongside Intense Pulsed Light (IPL) dry eye treatment. IPL is another similar form of dry eye treatment, although it is stronger and used for more severe cases of DES. Read more about IPL by reading Advanced Dry Eye Clinic: The Benefits Of IPL For Dry Eyes.
What Are The Benefits Of Radio Frequency?
Radio Frequency helps reduce your Dry Eye Syndrome symptoms after only 1 quick in-office treatment that should take 20 minutes or less. Despite the non-invasive nature of this dry eye treatment, it has a high level of clinical efficacy and can be tailored to your specific dry eye treatment needs. RF is an FDA-approved anti-inflammatory and anti-microbial solution that will help to clear oils from the meibomian glands as well as address problematic blood vessels and potential microbial infections. As an added bonus, RF isn't only good for your eyes; this dry eye treatment can also help to reduce the look of fine lines and wrinkles by stimulating cell regeneration and collagen production around the eyes. After receiving RF, you will have optimal dry eye treatment results with no downtime. It should be noted that RF is best suited for slightly milder cases of DES, as it is less intense than IPL.
Receive Radio Frequency Dry Eye Treatment In Calgary And Three Hills
If you are suffering from DES symptoms, book an appointment with the My Optometry Dry Eye Clinic. Our advanced dry eye treatments can reduce your dry eye symptoms in as little as one visit. We will work with you to determine the best treatment available for your DES symptoms and our Calgary optometrists can administer RF or IPL, depending on your specific needs for dry eye treatment. To book an appointment with the My Optometrist Dry Eye Clinic, contact My Optometrist at one of our three locations at Health First in SE Calgary, Sunridge in NE Calgary, or Three Hills, AB. You can also call us or fill out the online contact form.
FAQ
Q: Does RF dry eye treatment hurt?
A: No, Inmode's Forma RF is completely painless.
Q: What increases your risk of developing DES?
A: Several risk factors are associated with Dry Eye Syndrome including:
Age
Gender
Ethnicity
Depression
Excessive screen exposure
Environmental conditions
Hormonal changes
Vitamin surplus or deficiency
Inadequate blinking frequency or magnitude
Contact lens usage
Autoimmune disorders
Long-term use of certain medications, for example, antihistamines and nasal decongestants
Q: How do I prepare for RF dry eye treatment?
A: Before you receive your dry eye treatment, make sure to:
Avoid sun exposure.
Remove makeup and other skin products from the skin.
Do not expose your skin to UV light and other artificial products before and in between treatments.
Avoid exfoliating or peeling masks prior to appointment.
Avoid aspirin or ibuprofen for a week prior to your appointment.
Keep the area clean and dry.