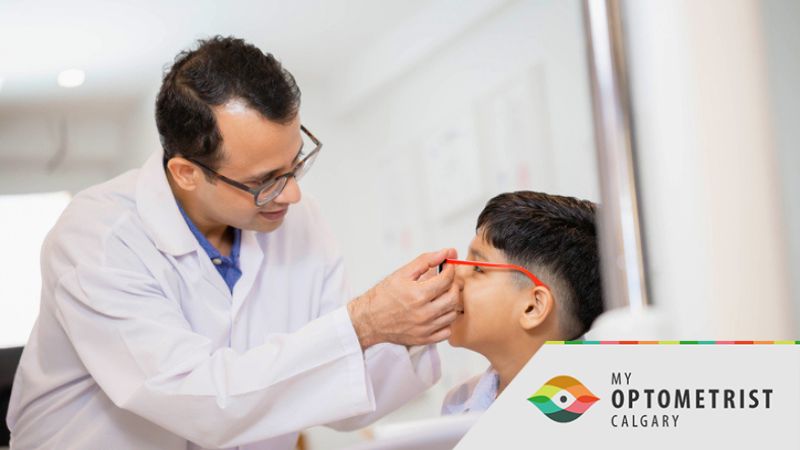 As a parent, you want to ensure you're doing what you can to keep your child healthy. Although there are many parenting books available to help you raise your child, one important aspect of health often isn't discussed enough: eye health. Your child's eyes are incredibly delicate, and the early detection of eye conditions is very important for preserving your child's vision. Correcting refractive errors is also incredibly important for ensuring your child can thrive in school and throughout life. One of the easiest ways to protect your child's vision and eye health while monitoring for other potential health issues is to take your child for regular children's eye exams at various stages in their life.
Children's Eye Exams: When And Why
Birth To 24 Months Old
Your child's vision will take some time to develop in the first few months of life. When your child is first born, their eyes will not fully focus and move together, nor will they accurately process visual information. By the time your child is about 6 months old, you should take them to the optometrist to ensure that there are no eye health complications. The optometrist will view your child's eyes to ensure everything looks right and that there are no early onset conditions such as retinoblastoma (cancer of the eye) or primary congenital glaucoma. If any conditions are developing, identifying them and addressing them early can help save as much of your child's vision as possible.
25 Months To 2 Years Old
Taking your child for an eye exam around 2 or 3 years lets you know that your child is developing proper eye tracking, convergence, colour vision, and more. Whereas the initial eye exam at 6 months is to make sure they don't have any eye conditions from birth, this eye exam is an opportunity to make sure their development is aligned with their age.
2 To 5 Years Old
Although your child doesn't need to start having annual eye exams until they are about old enough to start school, you should schedule a children's eye exam shortly before they begin school. If your child has a refractive error, it can severely impact their ability to perform in school and to keep up with their peers. Back-to-school children's eye exams can help your child receive the eye care they need before starting school thus preventing them from struggling due to vision impairment. If your child has an unaddressed refractive error that results in increased difficulty in school, this can lead to negative feelings towards school and education. If your child does need glasses when they are around kindergarten age, they may be eligible for the Eye See… Eye Learn program™, which offers free eyeglasses to kindergarten-aged children. To learn more about this program, read Does Your Child Need Eyeglasses? The Eye See… Eye Learn™ Program Can Help.
5 To 18 Years Old
Once your child is in school, they should receive a children's eye exam every year. Children grow very fast, their eyes included, and a change in vision or eye health can progress rapidly compared to vision changes in adults. Beyond this, ensuring your child has no undetected developing refractive errors ensures that they are not limited by vision problems in their academic journey or their social life.

Children's Eye Exams In Calgary
Your child's optical needs will change as they age, but it is always best to have regular children's eye exams to monitor their eye health and catch any vision impairment or health condition early. Whether your child is a newborn or almost ready for high school graduation, make sure to book a children's eye exam from a skilled optometrist. At My Optometrist in Calgary, our optometry office offers eye care for patients of all ages to ensure lifelong eye health. To book a children's eye exam with one of our eye doctors, contact My Optometrist at one of our three locations at Health First in SE Calgary, Sunridge in NE Calgary, or Three Hills, AB. You can also call us or fill out the online contact form.

FAQ
Q: Does my family's health history matter?
A: Yes. Some eye conditions can be hereditary. If someone in your family has a history of eye conditions, your child could be susceptible to this condition too.
Q: What is included in the children's eye exam?
A: An eye examination for children usually includes vision testing, eye health evaluation, and eye alignment testing.
Q: Will a children's eye exam be invasive?
A: No. Children's eye exams are non-invasive and will not cause harm or pain to your child. All instruments and eye drops used are safe for your child and will not cause them discomfort.