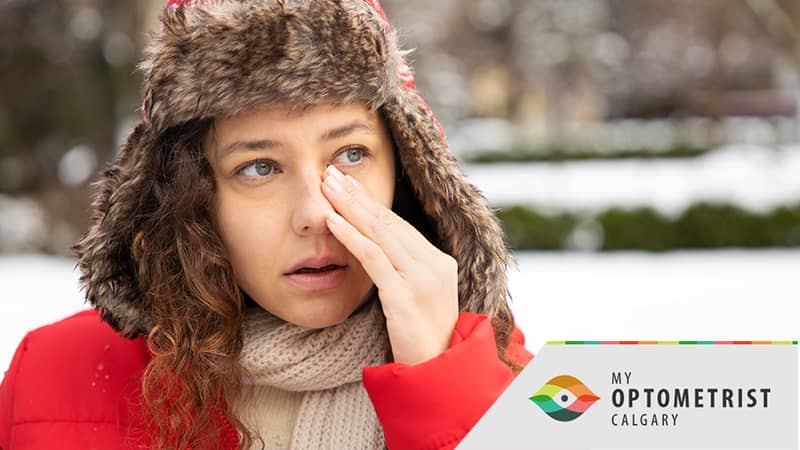 Dry eye syndrome, also known as DES, is the result of the eyes not producing adequate lubrication, leaving them feeling itchy, scratchy, irritated, stinging, or burning. Dry eyes can also cause redness and can cause blurred or doubled vision, eye fatigue, and excessive tearing. Some people have symptoms of dry eye year-round while some people experience symptoms seasonally, most commonly in the winter. If you suffer from seasonal dry eyes or if your dry eye syndrome flares up worse in the winter, it could be due to the humidity levels of where you live.
Dry Eyes In Winter And What To Do About It
Why Are Dry Eyes Worse In The Winter In Alberta?
Dry Eye Syndrome is a medical condition that plagues many Albertans. In fact, nearly 90% of Albertans suffer from dry eye symptoms, whereas only 30% of Canadians are thought to have dry eye syndrome. Why is the number of people with dry eye symptoms so staggeringly high for Alberta versus Canada as a whole? Canada only has two landlocked provinces: Alberta and Saskatchewan. As such, these provinces have a much drier climate with very low air humidity, which is the presence of water molecules in the air. Humidity levels tend to be higher when the air is warm, as the warmer air can hold more water molecules. Since the cold air can't retain the same levels of moisture as the already dry summers, the humidity levels in the air drop even further in the winter months, leaving most Albertans with at least mild symptoms of dry eye syndrome. The average humidity in Calgary is 48% by the afternoon whereas the average afternoon humidity of the largest cities in Canada is about 63%. Another factor is unpredictable and inclimate weather conditions that can result in cold winds and cool, dry air that blows on faces and eyes. Although the humidity in your house can be slightly more controlled, the use of indoor heating may also contribute to a dry climate in the home.
Dry Eye Treatment
Increase The Humidity In Your House. You can purchase a humidifier for your house to keep the air within your home better for your eyes, particularly in winter when the windows and doors are often shut. This can benefit those with dry eye syndrome symptoms and who experience discomfort from the dry winters in general, such as those who get frequent nosebleeds and excessively dry skin.
Get A Dry Eyes Package. Cleansing and gently heating the eyes can help with tear and oil production, while eye drops such as artificial tears can replace your natural eye moisture. A package with a combination of products is ideal, as it will offer multiple forms of relief. The Winter Dry Eyes Package from My Optometrist has soothing gels, a relief mask, lubricating eye drops, and cleaning wipes; all of the essentials for resolving dry eyes after a particularly dry Alberta winter's day.
My Optometrist Can Get You The Dry Eye Treatment You Need
If you are suffering from the symptoms of dry eye syndrome, seek advanced dry eye treatment at My Optometrist at one of our three locations at Health First in SE Calgary, Sunridge in NE Calgary, or Three Hills, AB. The Calgary eye doctors at My Optometrist have created the Calgary Dry Eye and Ocular Wellness Clinic to provide treatment and relief to Albertans suffering from the symptoms of Dry Eye Syndrome. With the skill of our experienced optometrists and the specialized knowledge available through the Calgary dry eye clinic, you can get back to seeing life clearly and comfortably. If you want to book an eye exam for your dry eyes, call My Optometrist at 1-403-256-0606 or fill out our online contact form. If you want to look at products, such as the Winter Dry Eye Package, for at-home relief, visit our shop.
FAQ
Q: What should I do if I think I have dry eye syndrome?
A: For immediate dry eye relief treatment, you can get over-the-counter eye drops/artificial tears and relief masks. If you're looking for an at-home treatment option, try the Winter Dry Eyes Package, currently on sale for 23% off. If you still cannot find relief, book an appointment with the team at the My Optometrist Dry Eye Clinic either in Calgary, Sunridge, NE, Sundance, SE, or Three Hills, AB. Our knowledgeable team will help you figure out your diagnosis, the severity of your dry eye syndrome, and what steps to take next.
Q: Can dry eyes lead to other eye diseases?
A: Dry eye syndrome won't lead to diseases such as glaucoma or age-related macular degeneration, but it can lead to eye infections, damage to the surface of the eye, and decreased quality of life. If you think you have either an eye disease or dry eye syndrome, you should schedule an eye exam with a My Optometrist eye doctor so you can catch it early.
Q: Are there any other treatments for dry eye syndrome?
A: If your dry eye symptoms are mild, eye drops, ointments, scrubs, and compresses may be enough to relieve discomfort, but if your symptoms are severe, there are other options. Radio Frequency (RF) and Intense Pulsed Light (IPL) treatments are available through our dry eye treatment clinic. Both of these options offer longer and more effective relief from dry eye syndrome than other at-home methods. To learn more about these treatments, either visit My Optometrist online here or book an eye exam with our optometrists through the contact form.