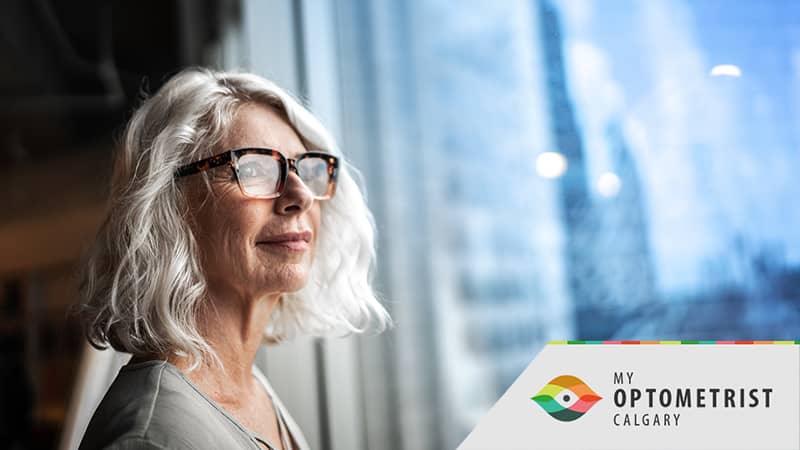 May is Vision Health Month! Improve your vision health by finding the right type of eyeglass lenses for you and your lifestyle. You have likely heard of reading eyeglasses before, but did you know there are also several kinds of multifocal lenses that perform the same function without the need to take your eyeglasses off? To help you understand the different types of eyeglass lenses available and which may work best for you, this article will explore the specifications of each lens. Once you know all of your options, you can take your knowledge to the optometrist and be prepared to find the perfect eyeglasses for your needs.
Types Of Eyeglass Lenses
Single Vision Lenses
Single Prescription Lenses
This type of lens is very common and is used for people who need only one form of corrective lens. People who have myopia (nearsightedness) as well as people who have trouble seeing both close and far away objects (hyperopia) often need single vision lenses.
Reading Eyeglasses
These are another form of single vision lenses. People who have trouble seeing close-up objects sometimes opt for reading glasses to use when they need them and then remove their eyeglasses for tasks that require distance vision, such as driving. Many people develop presbyopia, the gradual loss of the eye's ability to focus on close objects, after age 40. When presbyopia occurs, some people choose to purchase drug store reading eyeglasses that are essentially magnifying glasses, but there are also great options for reading eyeglasses available at the optometrist. While some people like reading eyeglasses because they do not want to wear eyeglasses all the time, other people find them inconvenient to take off and on or have a habit of misplacing them. In these cases, multifocal lenses are suggested.
Multifocal Lenses
Bifocals
These lenses have two prescriptions in one lens. The bottom of the eyeglasses allows the wearer to see close objects and is often used for reading so that the eye line is naturally slightly looking downward into the nearsighted area. The top area is for seeing distance. Several years ago, bifocals were easily identified by the visible D shape in the lower section of the eyeglasses where the prescription was different, but many bifocals now have a more subtle appearance.
Trifocals
Whereas bifocals have two different prescriptions, trifocals have three. While the bottom of the eyeglasses is still for seeing near objects and the top is for seeing far objects, trifocals have an added middle section that is an intermediate point to see objects that are neither particularly close nor far. Some people find these eyeglasses very useful as they offer a full range of vision.
Progressive Lenses
These lenses are not their own exclusive category, as they can come in either bifocal or trifocal form. Progressive lenses offer a smooth transition between one prescription and the other instead of having three distinct lines in the area of vision. Some people prefer progressive lenses because they are more aesthetically pleasing as there are no distinct areas of the lenses that can be noticed by others. Progressive lenses can cause some slight vision distortion in the area where the two prescriptions transition and it also offers slightly smaller areas of focus as the transition requires more space. Because of this, progressive lenses work better with large eyeglass frames instead of narrow ones, so your eyeglasses fashion choice may affect your choice of lens.
Computer Eyeglasses
These multifocal lenses have a specific area designed to better see computer screens, which are typically 50cm to 66cm away from the face. These lenses tend to be very helpful specifically for people who have to frequently switch between looking at a computer and something else, such as notes, a whiteboard, or at people in an audience you are presenting to.
Find Your Ideal Eyeglasses In Calgary Or Three Hills
If you are ready to switch to multifocal lenses, showing signs of presbyopia, want to know if your prescription is changing, or have any other vision health concerns, schedule an appointment with My Optometrist. A comprehensive eye exam with a Calgary optometrist will let you know your exact prescription and the helpful opticians can assist with the choice of the right type of lens and style of eyeglasses that will compliment your look and your life. To book an eye exam with one of our optometrists, call us or fill out the online contact form. To view and try on frames in-store, visit My Optometrist at one of our three locations, either Health First in SE Calgary, Sunridge in NE Calgary, or Three Hills, AB.
FAQ
Q: I need bifocals but I want to wear contacts. What can I do?
A: Contacts can be made as bifocals and multifocals. Instead of a vertical alignment of prescriptions like in eyeglasses, contact lenses use targeted vision at varying distances, like a bullseye. Multifocal contacts can be very convenient, but they will take some time to adjust to.
Q: How often should I replace my eyeglasses?
A: While this is largely a personal choice, a good rule of thumb is to look at what frequency your health benefits will cover a new pair of eyeglasses. You should also replace your eyeglasses if they become scratched, damaged, or become otherwise difficult to see clearly out of. Even if your frames are in good condition and your prescription does not change, it doesn't hurt to have a backup pair or some prescription sunglasses.
Q: How do I best care for my eyeglasses?
A: Your new eyeglasses will come with a case and it is important that you always store them in it when not in use. Clean them regularly with an optometrist-approved cleaner and microfibre cloth and check the arm screws to ensure nothing has come loose. Do not clean your glasses with toilet paper or other paper products as it can cause micro-scratches. If your glasses break, do not try to fix them with superglue, as this can void any warranty and make it difficult for an optician to repair.