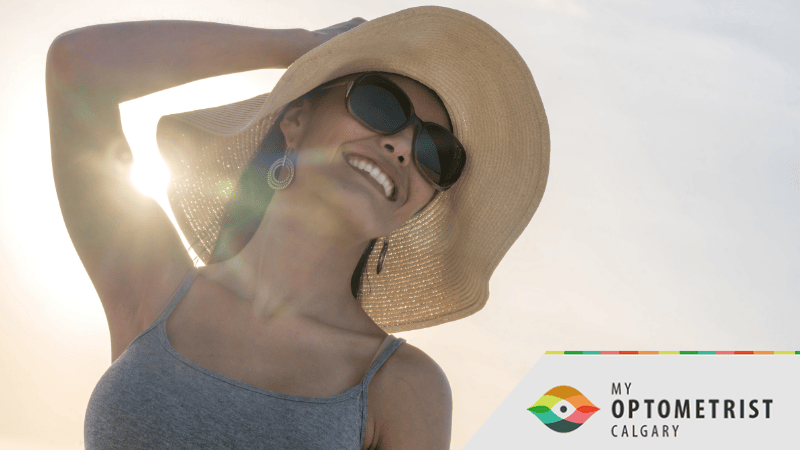 As summer approaches and we all get ready to spend more time outside, remember to protect your eyes from UV rays. There are two types of UV rays: UVA and UVB. Both are forms of electromagnetic radiation created by the sun and these UV rays can cause damage to the skin and eyes. UV rays are present all year round, but in the summertime they are stronger and people tend to spend more time outside exposed to them. If you are going to enjoy the summer outside, take the proper precautions. This UV Safety Awareness Month, learn the risks associated with UV rays and how you can protect your eyes before they suffer both short and long-term damage.
UV Light And Vision
How Can UV Rays Affect My Vision Short-Term?
When the eyes are exposed to the short wavelengths of UVB rays, burns can quickly develop.
Photokeratitis. Also known as corneal sunburn or sunburn of the eye, photokeratitis can develop in as little as 30 minutes. This sunburn can cause pain and irritation in the eyes as well as cause vision issues such as blurriness and sensitivity to light.
Sunburn On The Eyelids. This part of the body is often missed when applying sunscreen but burned eyelids can be very painful. If you do burn your eyelids, you can help reduce the pain and heat by applying a cool, damp cloth to your closed eyes.
How Can UV Rays Affect My Vision Long-Term?
UVA rays have longer wavelengths and this form of UV ray causes damage that presents over longer periods of time. These are the same type of UV rays that cause skin aging and melanoma.
Cataracts. This condition occurs when the proteins in the crystalline lens begin to break down, leading to a clouding of the eye. Exposure to UV rays has been linked to increased risks of developing cataracts. Cataracts often do not begin to develop until around age 60.
Age-Related Macular Degeneration (AMD). This condition is the loss of central vision. AMD occurs when there is damage to the central part of the retina, called the macula, that is responsible for clear, sharp vision. UV rays have been linked to the development of AMD and those who are exposed to UV rays are more likely to develop this condition, although it often does not begin to present until after age 50.
Cancer. UV is a known cause of cancers such as melanoma, but this type of cancer can occur in areas other than the skin. Your eyes and eyelids can grow tumours just as other areas of your body can. While cancer of the eye can lead to vision impairment, it can also spread to other areas of the body, such as the lungs or the liver.
How Can I Protect Myself?
There are several ways to keep your eyes safe from harmful UV rays. Ideally, all listed forms of eye care below will be used simultaneously for the best protection.
Wear UV Blocking Sunglasses. UV blocking sunglasses will prevent both forms of UV rays from reaching your eyes, with larger eyeglasses frames offering more coverage. UV blocking sunglasses can come in both prescription and non-prescription forms so that everyone can keep their vision healthy.
Wear A Hat. When your eyes are shaded, they are not being exposed to intense UV rays. A ball cap is a great way to keep the sun and UV rays off of your eyes, and a large sun hat can help keep the sun off of your neck and shoulders as well.
Use Sunscreen. While you might think to apply sunscreen before you go out on a hot summer day, you should actually wear sunscreen all year long. It is important to cover all areas of exposed skin with sunscreen, including your eyelids and the areas around your eyes. To help ensure your face and eyelids don't feel greasy, try buying sunscreen designed for the face.
Schedule Eye Exams. Having an eye exam every year or two allows your Calgary optometrist to monitor your eye health and detect any eye conditions early. Early diagnosis and treatment are key to retaining your vision health. You should also schedule an eye exam if you feel any pain or irritation in your eyes or if you experience any vision trouble. Your optometrist may be able to help you recover from photokeratitis and can ensure that your eye discomfort or vision impairments are not caused by something more serious.
Visit My Optometrist To Keep Your Eyes Safe From UV
Arm yourself against UV rays while still enjoying summertime with the help of UV-blocking eyeglasses. UV-blocking eyeglasses can come in the form of sunglasses, prescription sunglasses, or regular prescription glasses without tint. At My Optometrist, our Calgary optometrists will examine your eyes for any developing eye conditions and can recommend UV-blocking eyeglasses to help you stay healthy this summer and all year long. To book an eye exam with one of our eye doctors, contact My Optometrist at one of our three locations at Health First in SE Calgary, Sunridge in NE Calgary, or Three Hills, AB. You can also call us or fill out the online contact form.
FAQ
Q: Does the colour of the tint on sunglasses change the level of UV protection?
A: No, the UV protection is a special coating on eyeglasses and sunglasses that doesn't affect the colour of the lens. This is why clear glasses and even contacts can have UV protection.
Q: Can I get contact lenses with UV protection?
A: While UV protecting contacts are available, they will only protect the area of the eye that the lens covers. If you want full UV protection, you should find large-framed sunglasses or eyeglasses to protect your whole eye and the skin around the eye.
Q: Do comprehensive eye exams hurt?
A: No, they do not. The tests that are conducted are non-intrusive and will not cause any pain. If for some reason you experience any pain or discomfort during the exam, let your optometrist know right away.