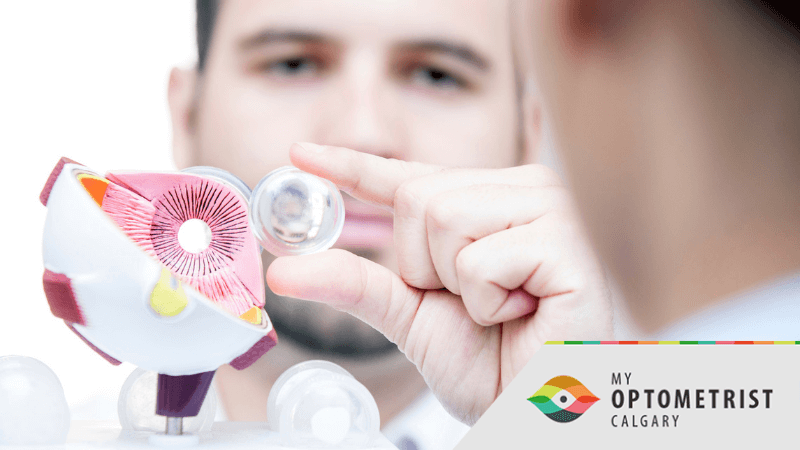 You may have heard the word Astigmatism, but may not know exactly what it is. Even those who are diagnosed with it may not fully understand what it means to have Astigmatism, or how an eye doctor can detect it. The truth is, most everyone has some degree of Astigmatism, but some people are affected by it to the point where corrective eyewear is needed.
A common misconception about those with Astigmatism is that they cannot wear contact lenses, but that is indeed a false belief. Here is how the right eyecare professional can detect, diagnose and treat those with Astigmatism.
Astigmatism Can Be Seen by Your Optometrist. Through a thorough eye exam, your eye doctor will be able to measure the curvature of your eye and if it is not uniformly round, you will be diagnosed with Astigmatism. In the more severe cases of this common eye condition, you can experience blurred vision, but it can be easily corrected.
Astigmatism Can Cause Poor Vision. Astigmatism is a refractive error, meaning the image transmitted from your cornea to the back of your eye is not clear and in focus. There are three different types of refractive errors that cause vision concerns:
Myopia (aka nearsightedness)
Hyperopia (aka farsightedness)
Astigmatism (aka stigma and can affect both near and farsighted people)
Astigmatism Can Be Corrected. Astigmatism can be corrected with prescription glasses, contact lenses, and in very severe cases surgery. You will want to ensure your optometrist has experience treating patients with Astigmatism as your contact lens fitting will be more specialized to address the irregular shape of your eyes. If your contact lenses do not fit properly they will rotate around, or not sit properly on the eye causing blurry vision and rendering them useless.
Astigmatism Contact Lenses are Specialized. As mentioned above, contact lenses are indeed an option for those who prefer them. Contact lenses offer many benefits to their wearers, especially those with active lifestyles, or those who just prefer their look without eye glasses. In the past the convenience of contacts were reserved only for those without Astigmatism, but thankfully that has changed. Toric contact lenses, Gas Permeable contact lenses, or hybrid contacts are types of contact lenses that can work well for many patients with Astigmatism. Your optometrist will be able to fit you with the best kind of corrective lense for your unique needs to get you back to crystal clear vision.
Calgary Eye Care Specialists
Don't let Astigmatism stop you from experiencing excellent vision, or from wearing contact lenses if you desire. Connect with an experienced eye care professional who can take care of all your Astigmatism-related needs.
My Optometrist Calgary is your one stop shop for everything you need to diagnose and treat and many eye conditions including Astigmatism. There are three locations to serve you in Calgary and area:
Reach out to them by calling one of the locations above, or by filling out the contact form below.
FAQs
Q: Can those with Astigmatism wear contacts?
A: Absolutely. Sometimes patients with Astigmatism require Gas Permeable Contact Lenses, Toric Lenses, and/or multiple fittings with their optometrist to find the perfect fit, but wearing contact lenses with Astigmatism is definitely possible, and a very common request.
Q: Does Astigmatism get worse?
A: Yes, Astigmatism can develop or become worse with age. Some reasons for this are a decrease in muscle tone around the eye and typical changes in the cornea over time.
Q: Can an optometrist cure Astigmatism?
A: Although there is no cure for Astigmatism, your eye doctor will help you restore your vision back to 20/20 with specialized contact lenses, corrective eyewear, and/or surgery in very severe cases.