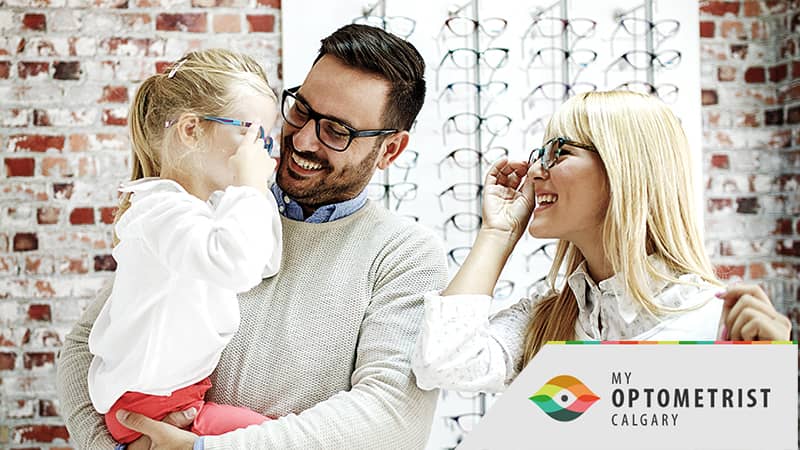 So, it's time for new glasses! Perhaps you are exploring prescription sunglasses, you are simply replacing an old pair, or this is your first experience with wearing glasses. You might find there are as many frame options as there are prescription types. From plastic frames, aluminum frames, bright colours, neutral colours, round, square and everything in between: don't let the seemingly endless options overwhelm you. This article will help you choose the right lenses and frames for your lifestyle, face shape, and fashion sense.
A visit to your Calgary Optometrist office where the walls are lined with so many options can make choosing the right pair a daunting task. But with professional input, you can rest assured that there is a perfect pair of eyeglasses for you. There are a few things to think about before your visit that could help narrow down your choices:
Lenses: The type, thickness and angle of your lenses will play a huge role in what frames you can choose from. Some frames cannot accommodate certain lenses and it is important to understand this before you even begin your search. After your eye exam, the team will help point you in the right direction of frames for you.
Face Shape: A good starting point is to determine your face shape. There are generally five different types that you will fall into square, heart, oval, round, and triangular.
Here are some tips for choosing eyeglass to suit your face shape:
Square: People with a square face can look for a thinner frame to soften the look, or a round frame that is slightly wider than their face.
Heart-Shaped: If you fall into the heart-shaped face category you will find that you may have the most options when selecting frames. Popular options include bottom-heavy frames and, and frames with low-set temples.
Oval Face: If you have a long and narrow facial silhouette, you might find that a bold, statement frame looks best on you.
Round: If your face shape is round, you might find that geometric, angular glasses frames suit you well.
Triangle Face: Many people with a triangle face shape find that cat's eye frames or D-shaped frames are flattering.
Understanding which of these shapes best describes your face will help to determine the best shape of frame for your face. Choosing your eyeglasses in person at a store with a variety of options will ensure that you find the best ones to compliment your shape.
Lifestyle: Your lifestyle plays an important role when choosing eyeglasses. For example, if you are active, you may want to consider a light metal frame or another durable material that is considered 'unbreakable'. Or, if you spend a significant amount of time outside, prescription sunglasses might be a good option for you. Whatever your lifestyle, a helpful eyewear technician at your eye doctor's office will be able to provide expert advice on this important choice.
Personal Style: Since your new eyeglasses will now become part of your daily wardrobe, looking at frames that also suit your personal style is important too. Your Calgary Optometrist's office will offer a variety of fashion frames to choose from. You don't have to compromise style just because your vision requires correction!
Your Best Choice for Eyeglasses and Sunglasses in Calgary
It's important to note the first step in determining the perfect pair of eyeglasses for you begins with an accurate prescription from a qualified optometrist. If you want a variety of options that suit your face shape and personal style, reach out to the team of friendly and helpful eye doctors at My Optometrist Calgary. Fill out the form below to book a visit at either of the two Calgary (Sunridge, NE and Sundance SE) locations or our rural Three Hills location to get started today.
FAQs
Q: How often should I replace my eyeglasses?
A: While this is largely a personal choice, a good rule of thumb is to look at what frequency your health benefits will cover a new pair of eyeglasses. Even if your frames are in good condition and your prescription does not change, it doesn't hurt to have a backup pair or some prescription sunglasses.
Q: How do I best care for my eyeglasses?
A: Your new eyeglasses will come with a case and it is important that you always store them in it when not in use. Clean them regularly with an optometrist-approved cleaner and microfiber cloth and check the arm screws to ensure nothing has come loose.
Q: Are there lenses that can transition to sunglasses when I go outside?
A: Yes, this is a great option for people who do not want to switch from eyeglasses to sunglasses as they go indoors and outdoors. These are called photochromic, or transitional lenses and they can be fitted with most traditional eyeglass frames.