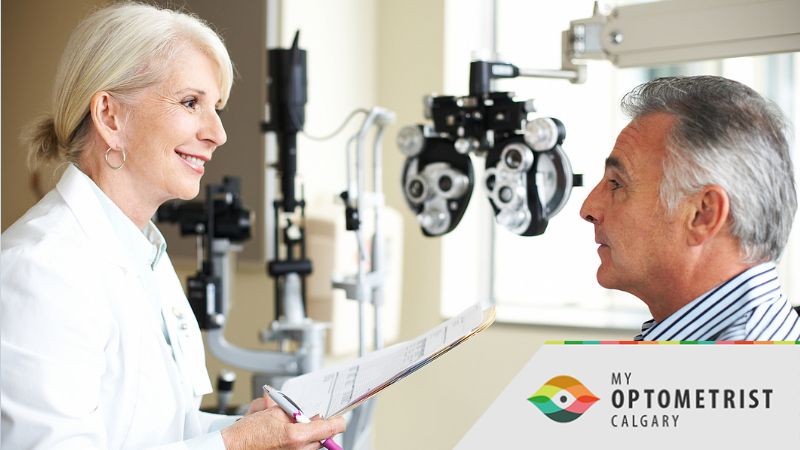 Diabetic eye disease, also known as diabetic retinopathy, is a condition within the eye that causes vision loss. This condition is a result of diabetes and high glucose levels in the blood vessels of the retina. The retina is a small section at the back of the eye that light is concentrated on and this portion of the eye is responsible for creating images. The retina needs a constant supply of blood to properly function. Diabetic retinopathy can affect these blood vessels, may create new and weak blood vessels and scar tissue, and can cause bleeding within the eye. If you have type 1 or type 2 diabetes, you are at risk of developing diabetic eye disease and you need to have regular eye exams with your eye doctor to monitor this condition.
Questions To Discuss With Your Eye Doctor
Ask Your Eye Doctor: What Are The Symptoms Of Diabetic Eye Disease?
When diabetic retinopathy is first developing, it may not display any symptoms or it may display only mild symptoms. Because of this, many people do not know they have it until they begin to develop irreversible eye damage. Once diabetic retinopathy reaches the point where damage occurs, you may experience:
Frequent spots or things that look like strings in the vision. These are called floaters.
Blurry vision.
Dark areas in your vision.
Fluctuating vision.
Impaired colour vision.
Vision loss.
Ask Your Eye Doctor: How Do You Detect Diabetic Eye Disease?
Although diabetic retinopathy does not present symptoms right away, it can be detected early with an eye exam. The pupils will be expanded using dilating eye drops so that the eye doctor can get a better view of the inner eye. Your optometrist may also request that a yellow or orange dye be injected into your blood so they can see how the blood is flowing through the eyes.
Ask Your Eye doctor: How Do You Treat Diabetic Eye Disease?
To help slow the progression of diabetic retinopathy, your eye doctor will work with you to create an individual eye health plan. This will include:
Managing your diabetes. Taking control over your blood sugar and learning to slow the progression of your diabetes is a critical step to managing both your diabetes and the other complications that come with it, including your diabetic eye disease.
Medication injections. Vascular endothelial growth factor inhibitors are a type of injectable medicine that helps to prevent new growth of blood vessels while decreasing fluid buildup.
Photocoagulation. This procedure uses cauterization to slow the leaking of blood in the eye.
Vitrectomy. This treatment removes blood and scar tissue from the centre of the eye.
Ask Your Eye Doctor: Where Can I Learn More About Diabetic Eye Disease?
You can discuss any of your concerns with your eye doctor during an eye exam. Your eye doctor will be able to address your concerns and give advice that is specific to you, your lifestyle, your development of diabetes, and (if you already have diabetic retinopathy) how far along your eye condition is. You can also learn more about diabetic eye disease by reading How Optometrists Diagnose Diabetic Retinopathy.
Visit Your Eye Doctor To Address Diabetic Eye Disease
If you have diabetes, you should have regular eye exams with an experienced eye doctor. While people between the ages of 19 and 64 are recommended to have an eye exam every year or two, people with diabetes are at a higher risk of developing this condition and should visit the eye doctor once a year. Since this condition develops painlessly, there is no way to know if you have it unless you schedule an eye exam. If you want to have your eyes examined for diabetic eye disease, visit an eye doctor from My Optometrist to ensure that any eye condition is caught early so a progression prevention plan can be started. To book an eye exam with one of our eye doctors, contact My Optometrist at one of our three locations at Health First in SE Calgary, Sunridge in NE Calgary, or Three Hills, AB. You can also call us or fill out the online contact form.
FAQ
Q: I've just been diagnosed with diabetes, when should I visit the eye doctor?
A: If you have been diagnosed with type 1 diabetes, you need to have an eye exam within 5 years, although sooner is always better. If you have been diagnosed with type 2 diabetes, it is recommended that you have an eye exam at the time you are diagnosed. It is also important for women who are pregnant and diabetic to have eye exams when they learn of the pregnancy, as pregnancy can alter diabetes.
Q: What other questions can I ask my eye doctor about my diabetic eye disease?
A: Some other good questions to ask your eye doctor include:
Do I need other tests?
Do I need to book time off of work/school for a follow-up?
What do my blood sugar levels need to remain at to protect my eyes?
I have other health conditions/am on other medications. How will this interact with diabetic eye disease?
Are there any side effects to my recommended treatment?
Q: Is there a link between smoking and diabetic eye disease?
A: While the most common cause of diabetic retinopathy is genetics and diet (depending on the type of diabetes a person has) smoking also contributes to an increased risk of diabetic retinopathy. If you have been diagnosed with this condition, quitting smoking can help slow its progress. Speak to your eye doctor about smoking and eye health.