In January of this year, two of the team members at My Optometrist Calgary; Dr. Bernadette Osiowy, Owner/Optometrist and Gord Van Dam, our District Manager, joined a group of Optometrists, Opticians and other volunteer participants on an exciting charity eye-care project in Kenya and Tanzania. The mission of this assembled optometry team was to provide much-needed eye care to those in need.
Jan 9th, Arrival in Nairobi, Kenya
After a 20 hour journey from Canada, our team of nine Optometrists and three Optician assistants, arrived in Nairobi ready to provide much-needed eye care to those in need! Upon arrival, our team was welcomed with a transfer to a hotel where we were able to rest and prepare for our first day of clinic. The team was also fortunate to meet with our exceptional project coordinator, Mr. Rick Castiglione.
Jan 10th-11th, Ewaso Ngiro – Eyecare Outreach
The optometry team travelled from Nairobi to the town of Ewaso Ngiro to set up their first eye clinic at the Building Hope Academy. The drive was a colourful and interesting journey through villages and markets that ultimately led to their destination. The team set up the clinic in the academy's classrooms and within a half hour, they were ready to see their first wave of patients. Exam stations for registration, dilation, and visual acuities tests were set up and windows were blacked out to create an appropriate dark area for the examinations. Over 200 people from neighbouring communities were seen, and the team was able to deliver 50 ready-made glasses, 30 sunglasses, and prepared 15 prescriptions to be custom ordered.
During their stay at the academy, the team was hosted in the teacher's quarters and were treated to meals prepared by the local chef. They also had the opportunity to work with a local ophthalmologist and refer patients for medical eye care and surgery. The team was entertained by a group of local dancers who performed story-filled tribal dancing, adding to the memorable experience. Despite the challenges of setting up a clinic in a new location, the optometry team was able to make a difference in the lives of those in need.
Jan 12th, Narok County Outreach Clinics
The optometry team travelled to Narok County where they were welcomed by the Minister of Health, Governor Patrick Ole Ntutu. The team was impressed by the Minister's enthusiasm and vision for improving the health of his community. The next clinic was held at the Naroosura Health Centre, which turned out to be a brand new medical center and the team was the first to work there.
At this clinic, the team saw 250 people and provided over 50 ready-made glasses and sunglasses, and over 50 prescription eyeglass orders, as well as nearly 50 referrals for surgical conditions. The team had the opportunity to visit the surgical center run by local ophthalmologist, Dr. Charles, which had been upgraded with the help of the Castiglione Family Foundation. The team was able to make a significant impact on the lives of those in need and provide much-needed eye care. A picture of a young girl with a high prescription who received help at the clinic serves as a testament to the team's efforts.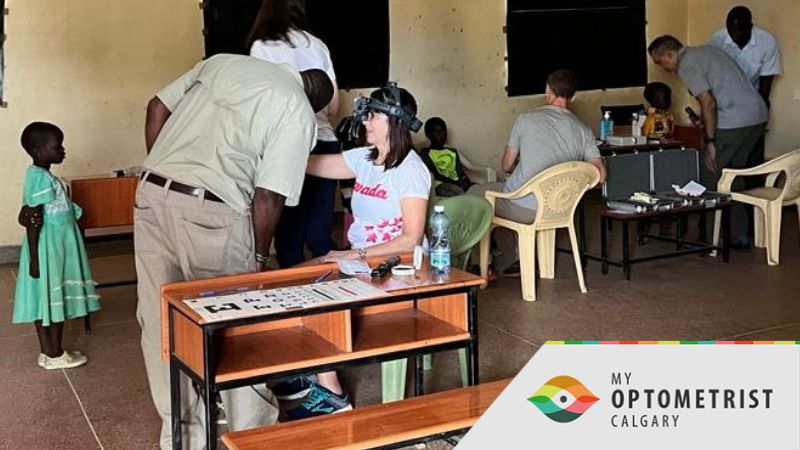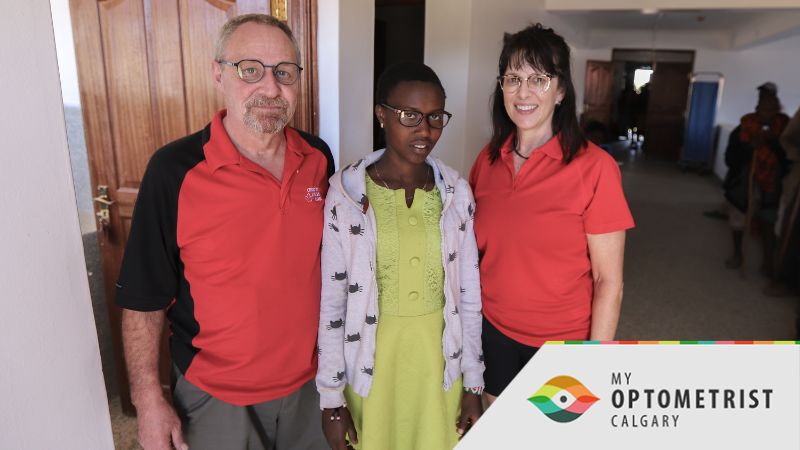 Jan 13th-14th, The Maasai Mara to Amboseli, Kenya
Before heading out on our planned Safari adventure, we set up a clinic in the hometown village of one of our drivers. as we headed out of the area to go on a Safari adventure. We saw 150 people and provided over 60 ready-made glasses and 20 prescription orders.
Following our morning clinic, the team took a break from their work and spent a day exploring the Maasai Mara National Reserve where they had the chance to see a variety of wild animals. On the northern edge of the Serengeti Plains, 'The Mara' boasts the highest density of large predators in the world, including lions, leopards and cheetahs. We had the anticipation of seeing elephants, giraffes, cape buffalo, hippos, gazelles, topi and much more.
That night we stayed at Malaika Camp. The following morning, before concluding our safari adventure we departed for one last Land Rover path and river crossing. We saw so many animals along the route as if they were saying farewell to us. It was magical.
We arrived at a small airport that opened up out of nowhere, with small planes arriving for safari travellers. From here we flew back to Nairobi in the morning and then drove to Amboseli, located on the Kenyan side of Mount Kilimanjaro. Our drivers met us in Nairobi, with our equipment and luggage to carry on with the next clinic days.
Jan 16th, The Eating Stone Orphanage
Monday afternoon we arrived at the CVC Children's Eye Clinic in Soweto, Nairobi. The clinic was hosted at the Eating Stone orphanage, which is both a school and home for many orphaned children. We provided eye exams for over 150 people and delivered 125 ready-made prescriptions and sunglasses, and 50 custom prescription orders. We found there to be a surprisingly high number of this community that required vision correction.
Jan 17th, Usikimye Clinic
On this day we put in a full day at the Usikimye Clinic, which was essentially a women's shelter providing emergency care for women and children displaced by violence, exploitation, neglect and abuse. Usikimye means 'do not be silent' in Swahili.
After our clinic, we were taken for a tour of the shelter. We were saddened by the stories we heard, yet inspired by their resilience. They were very appreciative of the help we were able to provide to their group.
Give A Little, Get Alot.
Together we provided eye exams for well over 1000 people, over 550 with non-prescription eyewear, and 230 custom prescriptions.
During our mission met so many passionate people, caring and devoted to their community. We are so fortunate to have experienced the culture, lifestyle, love and gratitude of the various people of the Massai Mara tribe. We enjoyed excellent Kenyan coffee, ate nutritious meals prepared by local chefs and were exposed to the dress, language and even a special presentation of a young group doing a traditional dance series.
Save Your Sight And Theirs
Don't forget the importance of regular eye exams for maintaining good eye health! Book an appointment at any My Optometrist location in Calgary and make sure your vision is at its best. In addition, consider donating to Canadian Vision Care, an organization dedicated to providing much-needed eye care to those in need around the world. Your donation can help make a difference in the lives of people in communities like the ones visited by My Optometrist Calgary's team in Kenya and Tanzania. Together, we can work towards a world where everyone has access to quality eye care.