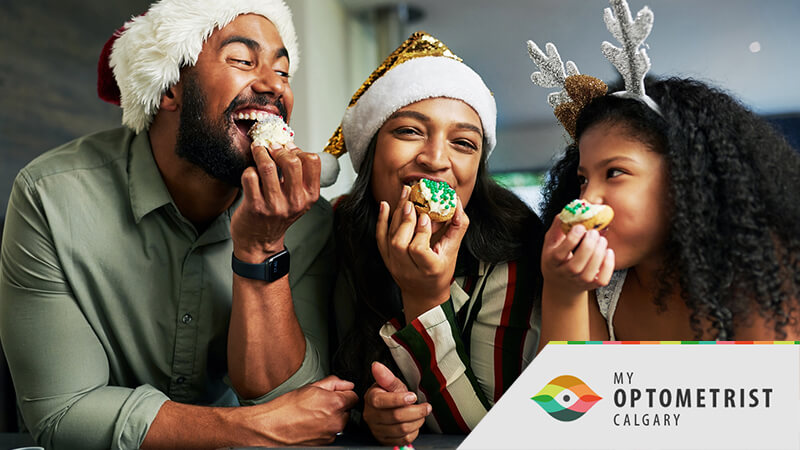 We have all heard that eating certain fruits and vegetables can help your eyesight, but the opposite can also be said; eating unhealthy foods can negatively impact your eyesight and put you at risk for eye health complications. When you have too much sugar in your diet it can cause issues such as high blood sugar and diabetes, both of which have negative effects on your overall health and your eye health. Here are the ways high blood sugar can affect your eyes and how diabetes can impact eye health.
Yes, Dietary Sugar Can Affect Your Eye Health. Here's How:
It Can Cause High Blood Sugar.
Eating a diet that's high in sugar can lead to high glycemia or high blood sugar. This is harmful to many aspects of your health, including your eyes. High blood sugar causes the eye lenses to expand, which can contribute to glaucoma, a disease caused by pressure in the eyes that leads to permanent peripheral vision impairment.
High blood pressure can contribute to cataracts, which is a clouding of the lens that limits the amount of light entering the eye.
Excess sugar consumption can lead to macular degeneration, which causes blurred or reduced central vision due to the deterioration of the macula, which is the part of the eye that is responsible for clear vision in your direct line of sight.
It Can Cause Diabetes And Diabetic Retinopathy.
A high amount of sugar in your diet can result in prediabetes and type 2 diabetes, which causes your cells to become resistant to insulin. Once this happens, the glucose from sugar ends up building in the bloodstream as opposed to going to the cells to give them energy.
Diabetic retinopathy is a diabetes complication that specifically targets the eyes and damages the blood vessels of the retina, which is the light-sensitive tissue at the back of the eye. Diabetic retinopathy can develop in anyone with type 1 or 2 diabetes, as well as in those with prediabetes. It can cause excessive floaters, blurred vision, fluctuating vision, dark or empty areas of vision, and vision loss.
This serious eye condition presents itself in four different stages. The first three stages are referred to as mild nonproliferative, moderate nonproliferative, and severe nonproliferative diabetic retinopathy. As the disease advances, your eye doctor will use these terms to track where exactly your symptoms lie. Proliferative diabetic retinopathy is the fourth and final stage of the disease where you will typically be affected by the most vision complications/loss.
Get Your Vision Assessment From A Calgary Eye Doctor At My Optometrist
The best way to avoid high blood sugar that can negatively impact eye health is to not overindulge in sweets and eat a balanced diet with plenty of fruits and vegetables. Regular comprehensive eye exams with your Calgary optometrist are important for everyone, especially if you have diabetes or are experiencing symptoms of any condition related to high dietary sugar levels. If you are looking for eye doctors who are trained to work with retinopathy and other high blood sugar-related eye health issues, visit My Optometrist at one of our two convenient Calgary locations (Sunridge in the NE and Sundance in the SE) or our location in Three Hills, Alberta. My Optometrist can perform a visual assessment and a comprehensive eye exam to check your eye health and any underlying diseases that may be causing eye health problems. Book an appointment with our expert staff to take control of your eye health.
FAQ
Q: Is there a cure for diabetic retinopathy?
A: At this time there is no cure for this disease, but most eye doctors and health care professionals agree that taking care of yourself, and your health, are incredibly important to slowing the disease's progression. Getting regular vision assessments is a good way to track the development of the disease.
Q: What are the types of diabetic retinopathy?
A: The two types of diabetic retinopathy are called proliferative, and nonproliferative. Nonproliferative diabetic retinopathy refers to the early three stages of the disease and proliferative diabetic retinopathy refers to the fourth, and most advanced, stage of the disease.
Q: What is the difference between glaucoma and cataracts?
A: Cataracts is a clouding of the eye caused by proteins in the crystalline lens (the part that allows light to enter your eye). Cataracts interfere with central vision. Glaucoma is when the optic nerve is affected by pressure within the eye, and it affects peripheral vision. These two conditions affect different areas of vision and can have different causes. Both conditions should be regularly monitored by visiting your Calgary optometrist for an annual vision assessment.